ERM Online Resources for ASEE 2021 Virtual Conference
ASEE 2021 is virtual.  The main conference webpage is at https://www.asee.org/annual-conference/2021.  The virtual conference webpage is at https://2021asee.pathable.co.
We will share resources here to help you manage Education Research & Methods technical sessions, distinguished lecture, and social activities.
This will be updated during the conference.  Also check the ERM Facebook and Twitter pages.
Schedule (with links)

ERM Division Schedule of Sessions, Meetings, & Socials (with links to ASEE's Virtual Conference website)
https://bit.ly/2021ERMschedule or ERM_Bookmark_2021.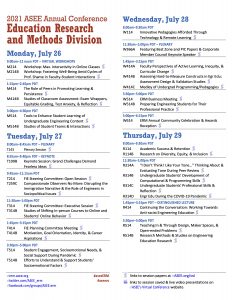 Sessions list
ERM sessions list on ASEE OSL (online session locator) with authors & links to papers
https://bit.ly/2021ERMtechnicalsessions
Social Events
Wednesday, June 28
3:30pm–5:00pm PDT
W514 ERM Business Meeting
Wednesday, June 28
5:00pm–6:15pm PDT
W614 ERM Annual Community Celebration & Awards Reception
Other
Thursday, June 29
1:45pm–3:15pm PDT – DISTINGUISHED LECTURE
R414 Continuing the Conversation: Working Towards Anti-racist Engineering Education
https://www.asee.org/public/conferences/223/registration/view_session?session_id=13541
Volume 109, Issue 4 of the Journal of Engineering Education highlights the work of engineering education scholars in guest editorials that address racism in engineering education history, curriculum, and research. Through the creation of that work, a recorded podcast conversation was conducted between these scholars: Dr. Kelly Cross, Dr. James Holly, Dr. Leroy Long, and Dr. Ebony McGee. In this Distinguished Lecture, that conversation will continue and engage the broad audience of ASEE Annual Conference attendees.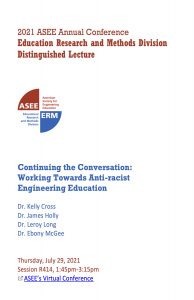 ERM Awards and Recognition
These awards were presented at Wednesday's ERM Community Celebration and Awards.
Apprentice Faculty Grants awardees

Hannah Budinoff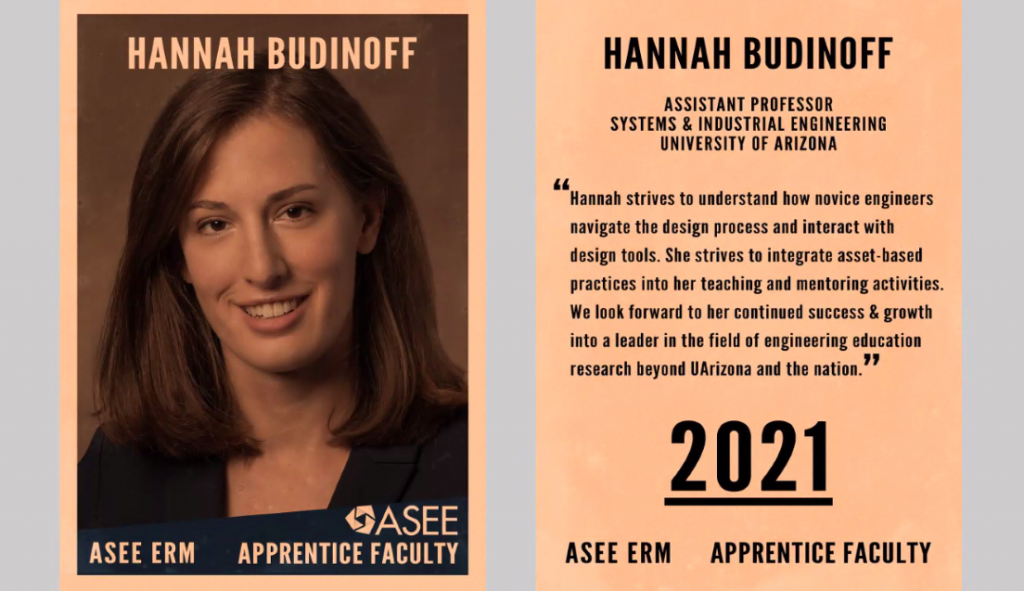 Hannah Budinoff, University of Arizona
Presentation video: https://youtu.be/FlUr8ickNrU
mentor: Ed Berger
Matilde Sanchez-Pena

Matilde Sanchez-Pena, University of Buffalo
Presentation video: https://youtu.be/sxlgoyKat6E
mentor: Jeremi London
Amena Shermadou

Amena Shermadou, Purdue University
Presentation video: https://youtu.be/o2p_PIPrBJ0
mentor: Holly Matusovich
Cijy Elizabeth Sunny

Cijy Elizabeth Sunny, University of Cincinnati
https://youtu.be/rVkhOPzYTy0
mentor: Idalis Villanueva
Best Paper and Best Diversity Paper
Best Paper in ERM
"You could take 'social' out of engineering and be just fine: An exploration of engineering students' beliefs about the social aspects of engineering work"
Robert Loweth, Shanna Daly, Leah Paborsky, Sara Hoffman, & Steve Skerlos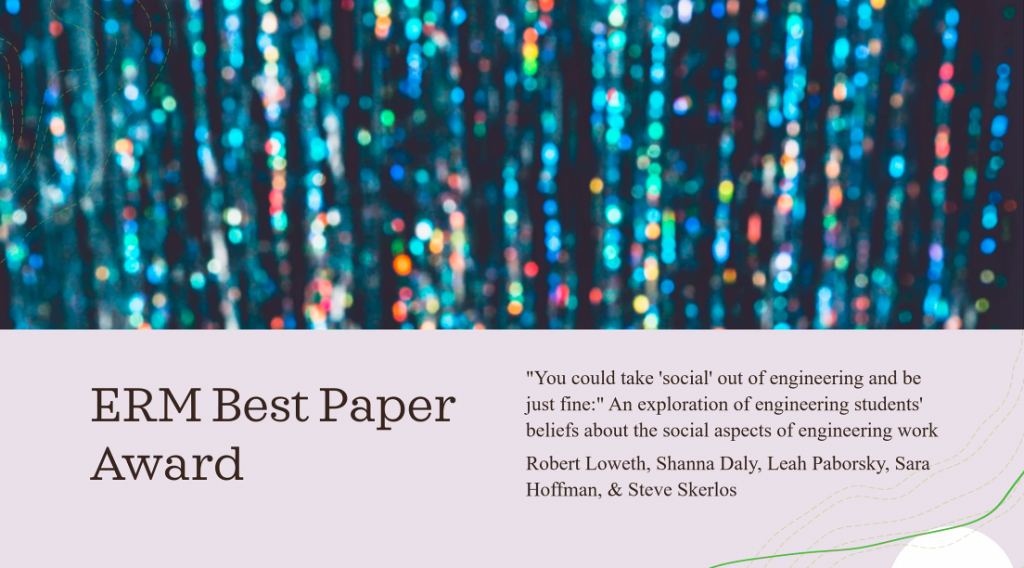 Best Diversity Paper in ERM
"The Politics of citation practices in engineering education"
Kristen Moore, Nathan Johnson, Fernando Sanchez, & Walther Hargrove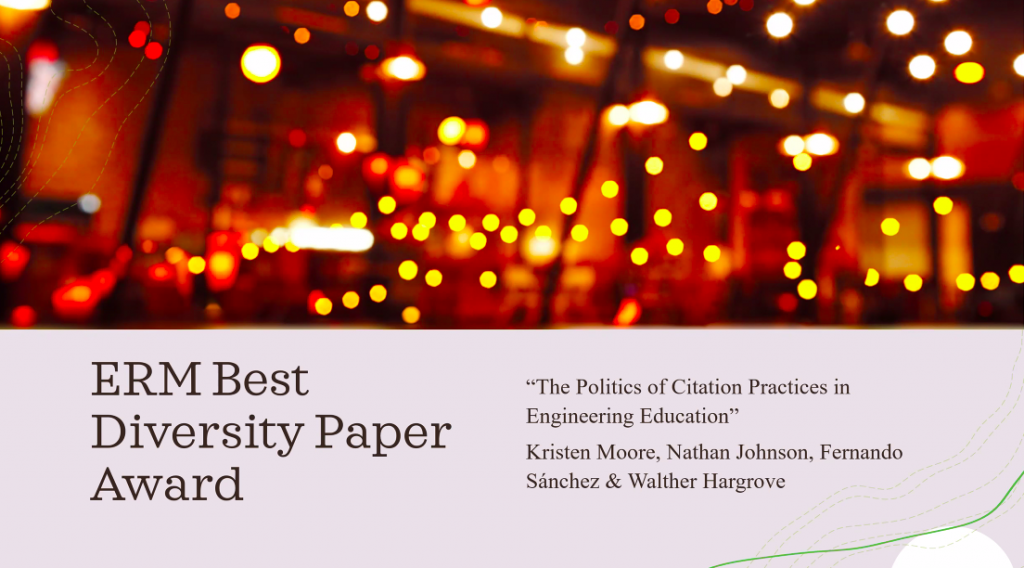 ERM Service Award
Lisa Benson, Clemson University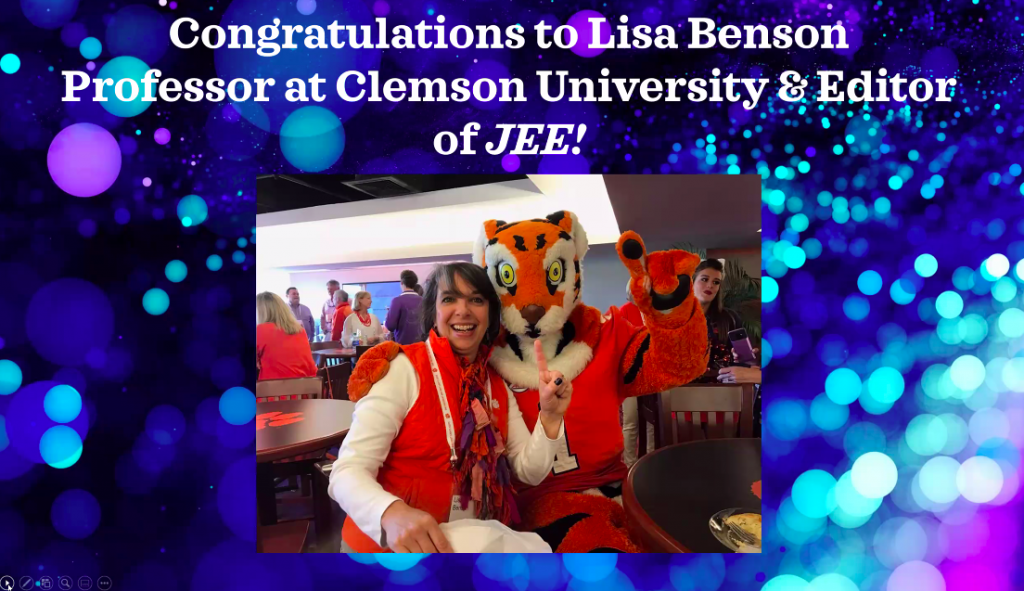 Journal of Engineering Education awards
2020 Wickenden Award Awardee:
Brian Burt, authors of "Broadening participation in the engineering professorial intentions" (April 2020)
2020 Honorable Mention:
Jo Walther, Michael Brewer, Nicki Sochacka, and Shari Miller, authors of "Empathy and engineering formation" (January 2020)
Maria Ong, Nuria Jaumot-Pascual, and Lily T. Ko, authors of "Research literature on women of color in undergraduate engineering education: A Systematic Thematic Synthesis" (July 2020)
2021 Star Reviewers
Andrea Mazzurco, Swineburne Institute of Technology
Cassandra McCall, Utah State University
Angela Minchiello, Utah State University
Jacki Rohde, Purdue University
Stephen Secules, Florida International University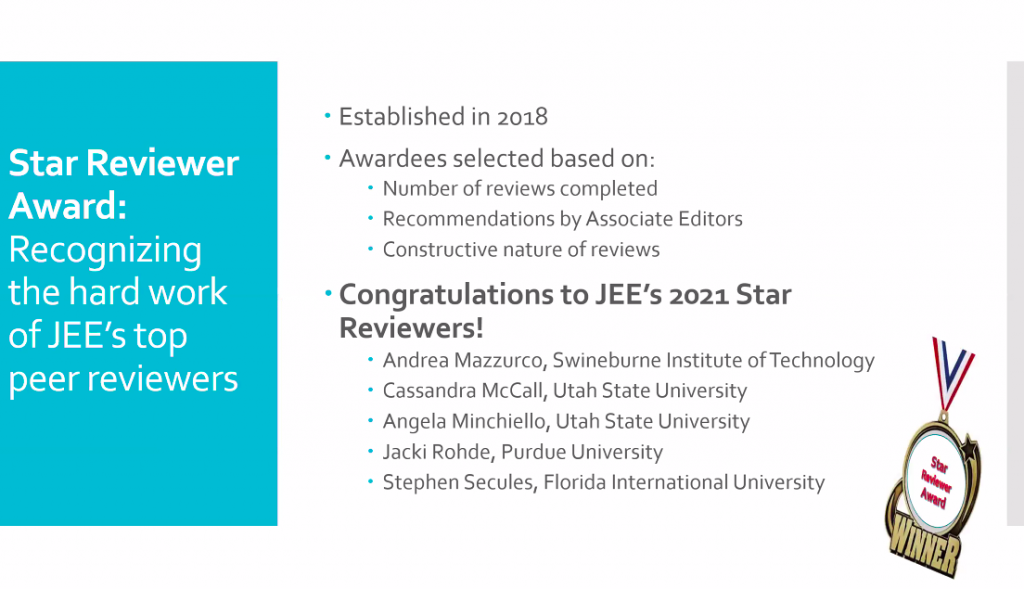 2021 Mentored Reviewer Participants

Twitter